How to activate SYNC® Connect powered by FordPass™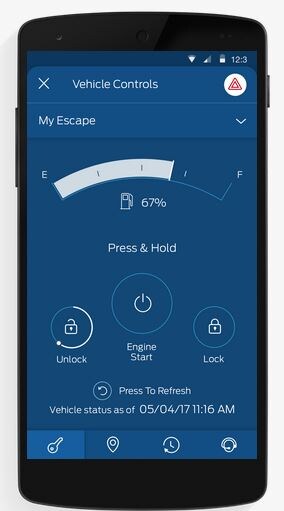 Once you add your SYNC Connect-equipped vehicle to FordPass and activate SYNC Connect, you'll be able to use the remote features through FordPass and stay connected with your vehicle from virtually anywhere.  
Download FordPass and add your vehicle
After confirming you have a vehicle equipped with SYNC Connect, you'll need to add your vehicle to FordPass and activate SYNC Connect before enabling the remote features:
1)  Download FordPass from the App Store or Google Play. If you already have a Ford Owner account, you can log in using your username and password. If not, you can create an account via the FordPass app with some basic information.

2) Create a four-digit PIN for security. Or iPhone users can use Touch ID.

3) Add your SYNC Connect-equipped vehicle to FordPass using the vehicle identification number (VIN) by:

Tapping the My Vehicles card.
Tap Add Vehicle.
Enter the VIN bar code-found on the inside of the driver's door of your vehicle-by scanning with your phone's camera, or by typing it in. You can also create a nickname for your vehicle.
A confirmation message will confirm your VIN. 
Tap Finish.
After you add your vehicle, a screen will display. Tap Activate.
Note: You can also start the activation process from the Vehicle Controls card in FordPass.
Activate your SYNC-Connect-equipped vehicle
Once you have entered your vehicle information in your FordPass app, continue the SYNC Connect activation process in your vehicle.
1) Start your vehicle.

2) A pop-up message will appear on the SYNC 3 touchscreen. Touch Allow on your SYNC 3 touchscreen.
3) Once you've completed these steps, you can access the remote features through FordPass.   Note: If you miss touching Allow, the pop-message will appear until you touch Allow or within the next 10 consecutive vehicle start-ups. If you do not touch Allow, you'll need to restart the process from the beginning.

4) Touch Continue at the GPS notification on the touchscreen when it appears.
Authorizing remote features for additional drivers
Once you've activated your SYNC Connect-equipped vehicle and enabled the remote features, you can authorize remote access to additional drivers through FordPass.

1) Additional drivers must create their own FordPass accounts and add the SYNC Connect-equipped vehicle to their accounts.

2) Once the additional drivers have successfully added the vehicle to their accounts and requested authorization, you, as the original driver, will receive an alert (if you have chosen to turn on this feature) and a message through FordPass, alerting you to a Vehicle Access Request. 

3) To authorize the additional driver, tap Accept. You'll receive a confirmation: Vehicle Access Authorized. Tap OK.

4)The additional driver will then have remote access to the authorized vehicle. 

For more information or to watch a step by step video please visit  Owner.Ford.com

Vehicles equipped with SYNC Connect: SYNC Connect is standard on the 2017 Escape Titanium and is included in the SE Technology Package (201A). For 2017 Fusion, it is standard on the Fusion Platinum and Platinum Hybrid. In addition, when the Driver Assist Package (90A) is ordered, it is standard equipment for the Fusion SE (202A), Titanium (300A), V6 Sport (401A), SE Hybrid (602A), and Titanium Hybrid (700A). For 2017 F-150, it is standard on the King Ranch®, Platinum and Limited.  It is also included equipment for the Lariat Luxury (502A) and Raptor Luxury (802A) and optional for the XLT Mid (301A), XLT Luxury (302A; not available with Regular Cab), Lariat Base (500A), Lariat Mid (501A), and Raptor Mid (801A).