Welcome to Our Service Department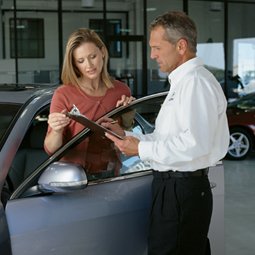 Why has Landmark become the most popular Ford & Lincoln service facility in the entire Northwest?  The overwhelming answer from our customers is team service.  At Landmark each of our service customers is assigned to a dedicated service team consisting of an Assistant Service Manager and several technicians.  That way year after year, you can work with service professionals who know you and your vehicle.

Open Till Midnight
The award-winning Landmark Ford & Lincoln Service Department is open for your convenience from 6 am till midnight on weekdays (7 am on Mondays) and from 8 am till 4:30 pm on Saturdays.  Our convenient Night Key Drop-Off allows you to leave your vehicle during those few hours we're not open.
Please note:  Our service department is open to drop off or wait for vehicles being serviced starting at 6:00 am Tuesday-Friday.  However, our shuttle service, rental department and cashier open at 7:00 am.