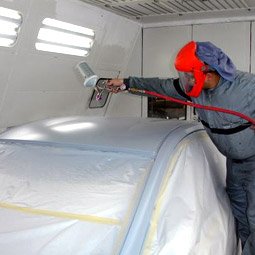 It's Your Choice
Most people never choose to visit a body shop.  But if you are in an accident, it's important to remember that you do have a choice regarding where your vehicle is repaired.  And for thousands of people, that choice has been the body shop at Landmark Ford Lincoln.

Our Work is Guaranteed
All body shop repairs at Landmark are guaranteed.  Our painting is guaranteed for life.  We use genuine factory replacement parts manufactured to the highest standards and perfectly matched to your vehicle. 
The Landmark body shop facility is state-of-the-art with a computer laser system for frame repairs and two heated downdraft paint booths.  Top grade OEM quality water base paint is used for all jobs, large or small.  Also used by Ford and Lincoln factories, water based paint significantly reduces the solvents and hazardous emissions that can escape into the atmosphere and contribute to air pollution.
Factory-Trained Journeymen Technicians
Our factory-trained journeymen technicians have earned a reputation for superior workmanship and you'll find our entire staff to be friendly and helpful.  We work with all insurance companies and we'll gladly assist your with insurance claims.
For your convenience, we also offer free shuttle service (ask about coverage areas) and one of the largest fleet of rental cars in the entire northwest, with special discounts for our body shop and service customers.
Have You Been in an Accident?
Having a collision is bad enough. The repair process shouldn't add to the pain. That's why we at Landmark Ford Lincoln have put together the information on our site as well as comprehensive Collision Guide that you can download by 
clicking here
. We hope it helps to make the entire collision and repair experience less stressful.